Now that our Fall 2010 line has launched, we want to take the time to talk about each shirt individually. This week's shirt is Salt & Light. I think it's taken first place in our hearts here at walk in love. We love the simple design and two color print. Gearing up for the fall line we knew we wanted to create several items designed around other verses (besides our verse, Ephesians 5:1-2). We try to choose verses that can be reminders to us, while wearing them, of how we should be living.
Matthew 5:13-14 says this "You are the salt of the earth... You are the light of the world." The Message goes on to say "Here's another way to put it: You're here to be light, bringing out the God-colors in the world. God is not a secret to be kept. We're going public with this ... Shine! Keep open house; be generous with your lives. By opening up to others, you'll prompt people to open up with God..."
It's a beautiful image God depicts with the idea of us being salt and light. I (being a photographer) am especially moved by light. There are times when the way it comes through my windows or lights up the trees brings tears to my eyes.
Check out our Salt & Light shirt in the walk in love. store. And remember that you are salt and light.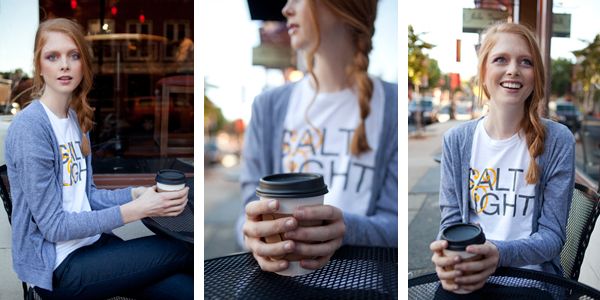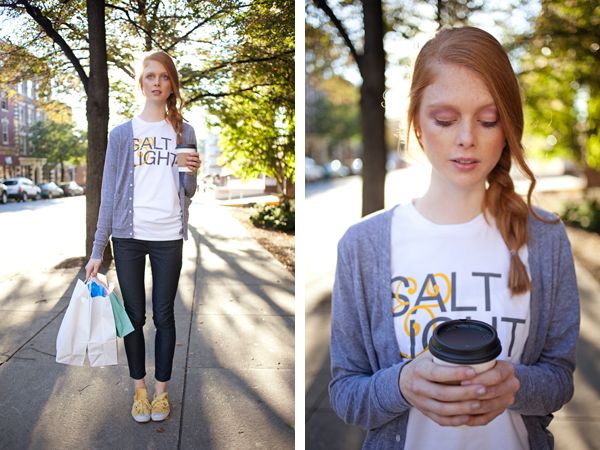 T-Shirt and Cardigan: walk in love. clothing
Photography: Brooke Courtney Photography
Hair and Makeup: Gabby Pfautz
Model: Nicole Marie Cascio
Coffee: Prince Street Cafe, Lancaster
---
4 comments
---
---