#walkwithMarlon // MS Walk
A couple weeks ago I received an e-mail from Marlon telling me about an MS walk he was doing with his family and friends!  He wanted to order a bunch of shirts, so we worked out a little deal and a few weeks later I saw his event photos popping up with the hashtag #walkinlove.  I reached out to Marlon and asked him to share some details about the day.  Here is what he had to say:
We wanted to wear walk in love. for the MS Walk in Pasadena, CA to create awareness and an end for multiple sclerosis.  We also let others know and share God's love. 
The message of both the MS Walk and walk in love. were simple, walk the walk, put love into action. 
The reaction from our friends and family was humbling as we raised our team's goal for the National MS Society prior to the event. Those who could not make it still wanted a shirt and donate to show support. We had over forty loved ones come to the walk wearing walk in love. tees, and I was able to reiterate to them our intentions: to not just talk love but to walk it, which was what they were doing right then and there. 
If anyone would like to contribute to 

our team

 and the 

National MS Society

, they can still do so as all proceeds will go towards creating a world free of MS. 
All in all, it was a blessing to be surrounded by a strong community exhibit

ing love and support for a good cause. 
Marlon and Kristal Reynoso

To all who were involved in the walk and wore our shirts - Thank you from our  entire team!  It was so cool seeing all our shirts on so many of you at one event!  Thank you for including us! If you are seeing this and want to buy walk in love. shirts for a big group event don't be afraid to fill out our contact form and get the ball rolling! - T.J.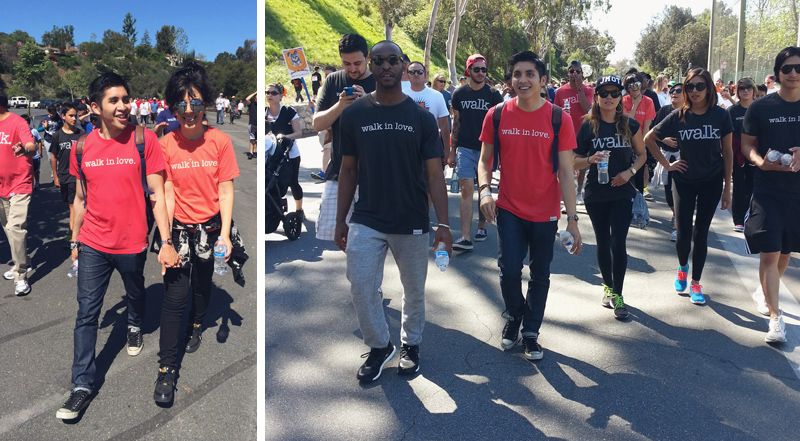 ---