This is the perfect last-minute-gift DIY project. All you need is an old t-shirt or tank top (larger sizes work best) and a pair of scissors! And you'll get extra brownie points for sure if you use a walk in love. shirt! (Check out our SALE section!)
Also, gentleman... this is REALLY easy. And I bet if you made one for you lady-friend, she'd be thrilled. Merry Crafting!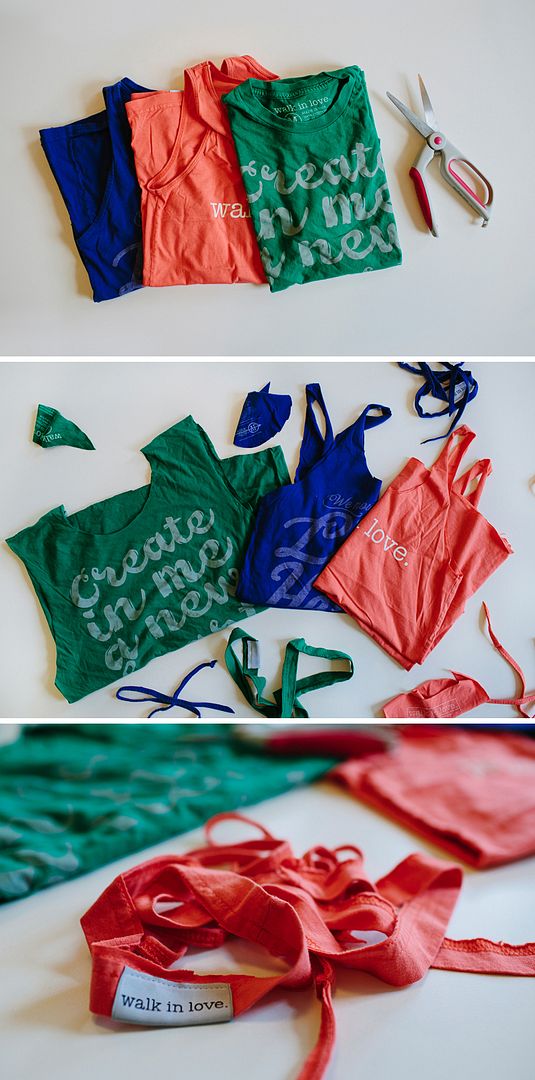 Supply List:
+ old walk in love. t-shirt or tanktop
+ scissors (sharp!!)
1. Cut off the bottom hem, neckline hem and sleeves.
2. Slice fringe into bottom half of the shirt. As long or short as you'd like! We did three different lengths in our examples.
3. Pull on the fringe to stretch them out. Tie fringe together to close the bottom of your bag.
4. Either leave the handles sewn shut (as they already are), or slice them apart and tie into a knot. (Like shown above.)
5. Fill with gifts for your friends and enjoy!
---
1 comment
---
---